The lovely BooMama is hosting the third annual Christmas Tour of Homes, and I'm so excited to get in on it...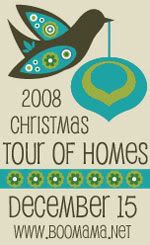 So, come on in, everybody!
In the interest of full disclosure (otherwise known as keepin' it real), my house was not picked up when I snapped these pictures. But due to some masterful cropping, you should be none the wiser.
We like our house to have a
lived in
feel.
So, here is what you see as you come in the front door...
When it comes to Christmas villages, I think you either love them or you hate them. I happen to love them. My hubby, not so much. But he loves
me,
and so the village prevails. And what makes it even better is when I find a piece that is seriously on sale after Christmas - one of these pieces retailed for $60, and I snagged it for less than $7 a week or so after the holidays. Oh, how I love a good deal.
Here's our tree. We are working on collecting meaningful and sentimental pieces for my daughter, but so far we don't have a lot.
I had some help decorating this year. Who says a tree heavy-laden with ornaments only at the bottom is a bad thing? Not this girl! Where else are you supposed to put them when you're only 2 1/2 feet tall?
The entertainment center boasts some garland and some glittery gold trees, another fabulous after-Christmas find. I purchased them intending to give them away as gifts, and as you can see, my good intentions ended here. On top of my own cabinet.
Stockings over our fireplace, the kind which leaps to life at the flick of a switch. Doesn't have quite the same ambience as a real fireplace, but it's pretty handy nonetheless.
The centerpiece on my dining room table...
My sparkly Christmas tree candle...
And the nativity scene in my daughters room. She has been strictly directed
not to touch
, but we all know what a temptation that is when you are not quite three. And really, I don't care all that much...getting to touch is all part of the magic, I think.
A few years back, we got almost a foot of snow - extremely unusual for our area. I am including this picture, because it makes me feel so warm and cozy, and it's how Chrismtas is
supposed
to look. I am still dreaming of a White Christmas for this year, although chances are it will be sunny and 50 degrees.
And that's it! Thank you so much for stopping by. From our house to yours...have a very Merry Christmas!
Oh, and many, many thanks to our lovely
hostess
!