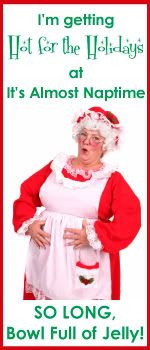 Well, this week was alright, food-wise. Still not much exercise....knee is better, just stiff and I can't fully bend it, so aerobic exercise is still out. It's weird, because now that I can't exercise, I actually
want
to. Hmm....
So I was all excited and determined to lose 2 pounds this week....and it didn't happen. I did lose one pound, though, so I'll take it. Down 3 1/2 total. Wow, this is slow going...but I know at Christmas I'll look back and be so glad I did this.
Also - and this is something that made me want to jump up and down - this is the lowest weight I've been at since having Savannah. I am not at my pre-pregnancy weight (wow, that's terrible...she's only
three
) but it'll come.
So tomorrow we have a birthday party, and I know in advance that they are having pizza - my ultimate downfall - and of course cake. So my bargain with myself is that I can have a limited amount of pizza, but no cake. I'll report back and let y'all know how my willpower holds up.
Short and sweet this week...I am in the middle of doing some Christmas craft projects with Savannah. Have a great weekend!