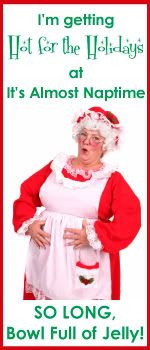 A few weeks ago,
Amy
did a post showing how she did some exercises that she swore would eliminate or at least greatly reduce the dreaded muffin top - The Plank, The Superman Lift, and the V sit. I have been meaning to start doing these, but I kept putting it off, first because of my knee - it was hard to get up and down from the ground, excuses, excuses, blah blah blah.
Anyway, this past week I decided to try them. Looking at her demonstrations in the pictures, she makes it look quite easy. I figured it wasn't anything that I couldn't do, and so I got into position for The Plank.
Oh my word. I could barely even lift myself up. And then once I was up, my midsection was trembling violently, and I couldn't hold it for anywhere close to the 20 seconds. Feeling like a complete wimp, I tried the Superman, which was a little easier, and then the V sit.
I just about passed out.
So now you know just how out of shape I am.
The next day, my abs were
burning
. I could not believe it. I mean, after all, I had only done a few sets of them and had only been able to hold them for maybe 10 seconds. And here they were, burning away. Which was actually encouraging, because if I am going to go through that kind of torture, I want to at least feel like some kind of progress is being made.
That night I was talking to Ricardo. "Man, my abs are really sore. You oughta see these new exercises I'm doing. They are
so. hard
. I can barely lift myself into position,I shake so much when I'm doing them...here, you wanna see?"
And I promptly got on the floor to demonstrate. And to my great wonderment, I was able to push myself up much more easily into The Plank than the day before. Although my poor muscles were still shaking, much to my hubby's amusement.
And then he decided he wanted to try it. So we sat there, both doing the V sit, him steady as a rock, me trembling like a leaf. "This?" he said. "Is this all there is to it?"
I know. I wanted hurl heavy objects at him, too. In love, of course.
Then he added, "Oh, when I was in wrestling, they told us that if we were really strong, we should be able to do this..." and he stretched his legs out in front him, and lifted himself several inches off the ground.
Whatever. I am still going to take pride in the fact that I am up to 20 seconds, 2 sets, with the V sit. And in my book, that is
progress
.
Ok, now on to my HFTH progress report...I lost half of a pound this week. It shouldn't have excited me as much as it did, but I was expecting maybe nothing, so this was music to my ears. I might have even done a little victory dance to celebrate. 4 pounds down.
And now looms before me one of my most favorite days of the year. Family, fun....and food. Glorious food. I love everything about the Thanksgiving dinner, except for the cranberries. And I plan on eating a little of everything, while still showing a modicum of temperance. Mashed potatoes, here I come. And stuffing. And pumpkin roll...
My posting will probably be somewhat sporadic over the next week or so, as well as my blog reading and commenting...I've got so much to do in the next few days. Hope that all of your holiday planning is going well....Happy Friday!