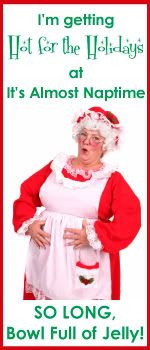 First off - I went to the chiropractor yesterday to have my knee checked out. I was getting concerned because it has been a week and a half since I fell, it was still really swollen, and I couldn't bend it. Which is sort of hampering my exercise plans.

But...good news! It's nothing serious, I just pulled a ligament and so now I have to try and get the swelling to go down so it will heal properly. I am so relieved...I had visions of joining my mother-in-law who is scheduled for knee replacement surgery later this month. So....whew!

And, good news on the weight loss front...I am down another 1.5 pounds. I wanted oh so badly to lose 2 complete pounds this week, but it just didn't happen.

My husband, whom I dearly love, brought some pure and unadulterated sin into the house last night...a can of root beer. We don't keep soda in the house, ever, so it's normally not even a temptation. He doesn't even like root beer, but I do, so he brought it home with me in mind. Why, thank you, honey.

Of all the carbonated and sugar-infested beverages, root beer is the one that tempts me the most. I resisted all last night, but by this afternoon, it was calling my name. Loudly. So I opened it up, had two sips, and poured the rest down the drain. And it wasn't even that hard, because I was thinking about the 13 teaspoons of sugar in the form of high-fructose corn syrup that could have gone into my body instead disappearing into my sink. Crisis averted!

So...3 pounds down, 12 more to go by Dec. 25. It's gonna be a very merry Christmas.
Updated: Oops...apparently dieting has an adverse affect on my addition skills. I lost 1 pound last week, 1 1/2 this week...so that makes 2 1/2. Not 3. That was just my wishful thinking.